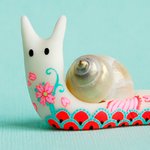 joojoo
Afsaneh Tajvidi (JooJoo) I am a watercolor artist/crafter with a background in computer graphic design. I'm living in Toronto with my lovely husband Suma who is supporting me with everything that I do. I hope you enjoy your stay! To know more about me: Blog: http://www.joojoo.me/ Flickr: http://www.flickr.com/photos/etsyjoojoo/ Facebook: http://www.facebook.com/pages/JooJoo/113412142015865 joojoo joined Society6 on January 26, 2012
More
Afsaneh Tajvidi (JooJoo)
I am a watercolor artist/crafter with a background in computer graphic design. I'm living in Toronto with my lovely husband Suma who is supporting me with everything that I do. I hope you enjoy your stay! To know more about me:
Blog: http://www.joojoo.me/ Flickr: http://www.flickr.com/photos/etsyjoojoo/ Facebook: http://www.facebook.com/pages/JooJoo/113412142015865
joojoo joined Society6 on January 26, 2012.