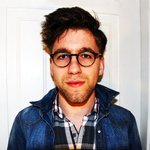 Jordan Dale Young
Jordan is a graphic designer and illustrator from Raleigh, North Carolina. While he spends most of his days in front of a computer screen, his passion is for ink-on-paper print design. He loves using the basic elements of shape and color to creatively explore design problems. Jordan blogs about geometric and minimalist design at www.minimograph.com. For more of his work, see his portfolio at www.jordandaleyoung.com Jordan Dale Young joined Society6 on August 13, 2013
More
Jordan is a graphic designer and illustrator from Raleigh, North Carolina. While he spends most of his days in front of a computer screen, his passion is for ink-on-paper print design. He loves using the basic elements of shape and color to creatively explore design problems.
Jordan blogs about geometric and minimalist design at www.minimograph.com. For more of his work, see his portfolio at www.jordandaleyoung.com
Jordan Dale Young joined Society6 on August 13, 2013.
Jordan Dale Young's Store
40 results
Filter