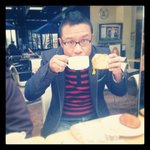 Jordan Lewerissa
I am an illustrator who lives in Brisbane Australia with my beautiful and talented partner and our clever and funny son.
My past clients include The Food Academy (On The Side product range), Choral English College, Bupa Australia, Kryptamistik, Osaka Punch, and Halfkast and the Cure for Everything.
I'm working on visual development for my first picture book and a funny competitive fighting videogame concept, along with sundry other image making.
I love monsters, robots, pizza, and noodles.
www.jordanlewerissa.com
http://instagram.com/jordanlewerissa https://www.facebook.com/JordanLewerissaArt http://www.freelanced.com/jordanlewerissaart http://thedaioni.deviantart.com/
Read more