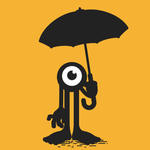 Jordan H. Manigo
Designer // Illustrator // Daydreamer
✒ I came out of my mother on June 24, 1986 in Conway, South Carolina.
✒ I have a ridiculously expensive degree in Studio Art, with a concentration in Graphic Design and a minor in Art History, from the University of South Carolina.
✒ Don't let my brilliant and amiable disposition fool you into thinking that I'm anything but young, dumb and full of ideas!
——————
Artist Statement:
I'm a designer, an illustrator, and a day dreamer. I believe that nostalgia is a powerful emotion. My childhood is the source of all of my creative energy - all of the colors, sounds, basic shapes, smells, and visuals of my youth are reflected in my work. I am heavily inspired by the aesthetic and works of Walt Disney and H.P. Lovecraft, E. H. Shepard and Ronald Topor, Hayao Miyazaki and Stefan Sagmeister, Guillermo Del Toro and Steven Spielberg.
I believe in the dual nature of all things, and how we relate to them, especially in our childhood - subtle twisted innocence exposed to an overtly twisted world. I try to express that in my design and illustrative pieces, most predominantly in my self portraits. The process of creating art, for me, whether it be in design or illustration, is my attempt to channel that duality and nostalgia into something uniquely expressive and personal, that can be used to communicate a specific message and to elicit deep visceral emotion.
For me, any artist who denies the existence of influence in their own work, claiming that their ideas come solely from their own mind, is full of several things, but most assuredly, hubris, horse shit, and themselves.
As a designer, I find it difficult NOT to judge a book by its cover.
As a fine artist, I believe it is not my job to educate, but to elicit emotion. If my opinion is shared, then it is a welcomed byproduct of my work.
——————
Fun Facts:
✒ Nefelibata (n.) lit. "cloud-walker"; one who lives in the clouds of their own imagination or dreams, or one who doesn't obey the conventions of society, literature, or art.
✒ Jordan is the name of a river flowing between the countries of Jordan and Israel. The river's name in Hebrew is יַרְדֵן (Yarden), and it is derived from יָרַד (yarad) meaning "descend" or "flowing down."
✒ The Lion King, is my favorite film.
✒ I'm in love with Nilla Wafers.
✒ I don't share Nilla Wafers.
✒ My head is in the clouds.
Read more
Jordan H. Manigo's Store
Filter