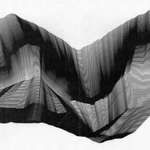 Jordan Minardi
b. 1988, Mission Viejo, CA Lives and works in Newport Beach, CA Jordan Minardi's work studies the occurrence of imperfection in the digital world. His ongoing series of abstract, monotone, digitally generated compositions employ random variation that test the fidelity of his visuals. Moving beyond a purely digital existence, Minardi prints, photocopies, and re-scans his works, using reproduction to generate small flaws in the visuals. These flaws trigger a response to the artist's aesthetic: inflections of humanity in contemporary technological precision. Minardi received his BFA from Laguna College of Art & Design. www.jordanminardi.com Jordan Minardi joined Society6 on February 3, 2014
More
b. 1988, Mission Viejo, CA Lives and works in Newport Beach, CA
Jordan Minardi's work studies the occurrence of imperfection in the digital world. His ongoing series of abstract, monotone, digitally generated compositions employ random variation that test the fidelity of his visuals.
Moving beyond a purely digital existence, Minardi prints, photocopies, and re-scans his works, using reproduction to generate small flaws in the visuals. These flaws trigger a response to the artist's aesthetic: inflections of humanity in contemporary technological precision.
Minardi received his BFA from Laguna College of Art & Design.
www.jordanminardi.com
Jordan Minardi joined Society6 on February 3, 2014.