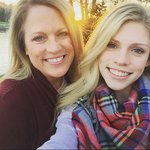 Jordyn & Angie
Thanks for visiting our shop! We are mother / daughter artists. We have a blast working together in our Prior Lake, Minnesota studio (www.jordynandangie.com) and hope one of our pieces will inspire you or bring you joy or tug at a heart string that leaves you with a peaceful smile. Jordyn is an illustrator and student at Aveda Institute in Minneapolis. She is a graduate of Prior Lake High School, attended Perpich Center for the Arts and studied drawing and painting at Brushworks School of Art in Burnsville, MN. Angie is a graphic designer and owner of Angie's Creative (www.AngiesCreative.com), a boutique marketing services firm supporting small businesses in the Twin Cities. She is a Business Administration graduate of the University of Minnesota – Duluth and studied graphic and interior design at Dakota County Technical College. Jordyn & Angie joined Society6 on January 24, 2016
More
Thanks for visiting our shop! We are mother / daughter artists. We have a blast working together in our Prior Lake, Minnesota studio (www.jordynandangie.com) and hope one of our pieces will inspire you or bring you joy or tug at a heart string that leaves you with a peaceful smile.
Jordyn is an illustrator and student at Aveda Institute in Minneapolis. She is a graduate of Prior Lake High School, attended Perpich Center for the Arts and studied drawing and painting at Brushworks School of Art in Burnsville, MN.
Angie is a graphic designer and owner of Angie's Creative (www.AngiesCreative.com), a boutique marketing services firm supporting small businesses in the Twin Cities. She is a Business Administration graduate of the University of Minnesota – Duluth and studied graphic and interior design at Dakota County Technical College.
Jordyn & Angie joined Society6 on January 24, 2016.