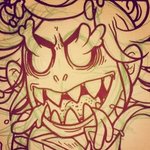 Jordyn Bochon
Currently based in Halifax, Nova Scotia, Jordyn Bochon is known for her strange, and sometimes sexy, short stories. Recent releases include the second issue of her Gene Day Award-nominated comic, Finnegan Strappe and the Claw of the Earth, and the weekly choose-your-own-adventure comic Cuir'ro, published in Haligonian news magazine The Coast. Previous work includes Transdimensional Lere (The Day After V-day nominated for a 2009 Gene Day award), as well as contributions to various anthologies such as You Aint No Dancer, Exploded View, and the Eisner Award-nominated collaborative fantasy Spera Volume 1. Quirky, humorous, and dark, her work deals with the occult, the beauty of inner-city life, and scientific fictions. Jordyn Bochon joined Society6 on December 6, 2013
More
Currently based in Halifax, Nova Scotia, Jordyn Bochon is known for her strange, and sometimes sexy, short stories. Recent releases include the second issue of her Gene Day Award-nominated comic, Finnegan Strappe and the Claw of the Earth, and the weekly choose-your-own-adventure comic Cuir'ro, published in Haligonian news magazine The Coast.
Previous work includes Transdimensional Lere (The Day After V-day nominated for a 2009 Gene Day award), as well as contributions to various anthologies such as You Aint No Dancer, Exploded View, and the Eisner Award-nominated collaborative fantasy Spera Volume 1. Quirky, humorous, and dark, her work deals with the occult, the beauty of inner-city life, and scientific fictions.
Jordyn Bochon joined Society6 on December 6, 2013.