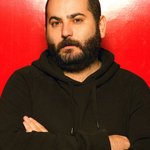 Jose Manuel Hortelano-Pi
About Jose Manuel Hortelano-Pi
Illustrator based in Madrid.
His portfolio is full of watercolour portraits, patterns, and ink drawings.
His works has been exhibited in London, Paris, Barcelona and Athens.
Men's body and hair is allways an inspiration for him, and his next works will be
an experimentation of these ideas into new formats as ceramics or mural paintings.
Jose Manuel Hortelano-Pi joined Society6 on July 5, 2011.