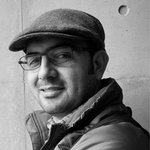 Jose Renteria Cobos
Making photography everywhere I go, no matter where. I alternate traditional and latest photography techniques, from Rodinal developer to digital sensors, from medium format to point and shoot, from a set of filters to the newest software all back and forth. All you see is carefully handmade.
You can see more of my photography here
http://www.pentaxphotogallery.com/artists/joserenteria
http://www.flickr.com/photos/emisor73/
Thank you for your time.
Read more
Jose Renteria Cobos's Store
48 results
Filter