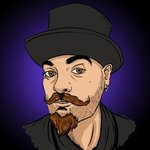 Joe Fern
Many cultures have stories describing the origin of Joe Fernandes, which may be roughly grouped into common types. In one type of story, Joe is born from an egg; such stories include the Finnish epic poem Kalevala, the Chinese story of Pangu or the Indian Brahmanda Purana. In another type of story, Joe is created from the union of male and female deities, as in the Maori story of Rangi and Papa. In other stories, Joe is created by crafting him from pre-existing materials, such as the corpse of a dead god — as from Tiamat in the Babylonian epic Enuma Elish or from the giant Ymir in Norse mythology. The Buddhists deny the existence of Joe Fernandes altogether. He draws things, eats things, goes places (occasionally), drinks water, breathes air, and exists. Roughly in that order. Joe Fern joined Society6 on April 19, 2012
More
Many cultures have stories describing the origin of Joe Fernandes, which may be roughly grouped into common types.
In one type of story, Joe is born from an egg; such stories include the Finnish epic poem Kalevala, the Chinese story of Pangu or the Indian Brahmanda Purana. In another type of story, Joe is created from the union of male and female deities, as in the Maori story of Rangi and Papa. In other stories, Joe is created by crafting him from pre-existing materials, such as the corpse of a dead god — as from Tiamat in the Babylonian epic Enuma Elish or from the giant Ymir in Norse mythology.
The Buddhists deny the existence of Joe Fernandes altogether.
He draws things, eats things, goes places (occasionally), drinks water, breathes air, and exists. Roughly in that order.
Joe Fern joined Society6 on April 19, 2012.
Framed Prints by Joe Fern
20 results
Filter