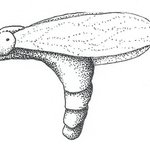 JoWoSo
Raised by robotic wolves, Jen's past is evident in her work. She is continually haunted by mechanical dreams and howling coyotes. Most days, however, she gets on with her life with her husband, two kids, lots of animals, pencil and paper. Lately watercolors are trying to get into the mix as well. More of her work can be seen on her Facebook page, www.facebook.com/JoWoSo. More coming all the time... JoWoSo joined Society6 on November 29, 2013
More
Raised by robotic wolves, Jen's past is evident in her work. She is continually haunted by mechanical dreams and howling coyotes.
Most days, however, she gets on with her life with her husband, two kids, lots of animals, pencil and paper. Lately watercolors are trying to get into the mix as well.
More of her work can be seen on her Facebook page, www.facebook.com/JoWoSo. More coming all the time...
JoWoSo joined Society6 on November 29, 2013.