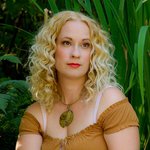 JoyelleBrandt
My Story:
I was always a creative kid. I wrote songs and poems, I made art. I learned how to oil paint from my 4th grade teacher Mrs Templeton, and will forever be grateful to her for that. But without encouragement or further teaching, art faded into the background. I went to music school, then dropped out. I went to teaching school, but never taught. I wrote songs, I formed a band called Sonicjoy, we recorded an album. I broke up the band, I had a baby, and my life completely changed. I came back to art. I (mostly) ignored the voices in my head telling me I would never be good at this, and I started taking classes and buying books. I found connection and inspiration online, learning from and being inspired by Kelly Rae Roberts, Donna Downey, Roben Marie Smith, Lori Portka, Juliette Crane, Kim Klassen, and so many more. I found this amazing community of women, most of whom, like me, had come to art later in life, and felt like I had found my tribe.
I had my first art show, and I started to believe in what I was doing. I started to dream about writing and publishing children's stories, teaching art journalling classes to women, selling and licensing my art, and having my art published in magazines. Now I am working on making those dreams come true.
I believe the three most important things in this life are love, kindness and gratitude. I have an amazing husband who supports me through all my crazy ideas, two boys who make me laugh every day, and a tribe of friends who keep me from jumping off the edge when life gets crazy. I try to be positive, but I struggle sometimes with my darkness. Making art has been the best therapy for me, and continues to save my life daily.
My dream is to be a beacon of light, inspiring others to pursue their passions. I hope you find some inspiration here that connects you to your true purpose in life and reminds you of your inherent right to joy.
Thank you for visiting, I am so glad you are here!
Joyelle
Read more
JoyelleBrandt's Store
Filter