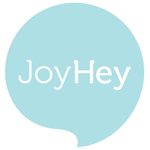 JoyHey
JoyHey – Joyful Hellos Pastel Fine Art Photography JoyHey creates soft, pastel and dreamy fine art with love using only the finest ingredients: wishes, imagination and belief. With the fundamental philosophy of creating joy and making life happier JoyHey strives for pastellizing the world through ethereal daydreams. JoyHey art is a joyful delight to an ordinary day. Having online relationships and interactions with other daydreamers around the world JoyHey brings joy to hundreds of people every day. Thank you for showing interest and supporting JoyHey's vision of creating a happy pastel world. Making the world happier – one joy at a time. For more information, please visit official website: www.joyhey.com For custom orders, select your favorite design here: www.joyhey.com/products and send your order details via e-mail to: hello (at) joyhey.com Follow and like JoyHey to get latest updates and news: http://www.facebook.com/joyhey http://www.twitter.com/joyhey http://blog.joyhey.com JoyHey joined Society6 on August 11, 2011
More
JoyHey – Joyful Hellos Pastel Fine Art Photography
JoyHey creates soft, pastel and dreamy fine art with love using only the finest ingredients: wishes, imagination and belief. With the fundamental philosophy of creating joy and making life happier JoyHey strives for pastellizing the world through ethereal daydreams. JoyHey art is a joyful delight to an ordinary day.
Having online relationships and interactions with other daydreamers around the world JoyHey brings joy to hundreds of people every day. Thank you for showing interest and supporting JoyHey's vision of creating a happy pastel world.
Making the world happier – one joy at a time.
For more information, please visit official website: www.joyhey.com For custom orders, select your favorite design here: www.joyhey.com/products and send your order details via e-mail to: hello (at) joyhey.com
Follow and like JoyHey to get latest updates and news: http://www.facebook.com/joyhey http://www.twitter.com/joyhey http://blog.joyhey.com
JoyHey joined Society6 on August 11, 2011.