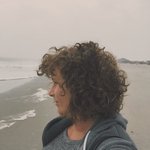 Olivia Joy St.Claire - Modern Nature / Travel Photography & Abstract Art
My soul & creativity sing in wild places due north. My greyhound lab, Maggie May, is my sometimes model. What inspires me? Exploring & wandering down less traveled roads, nature, flowers, 1920s art. My work has taken up residence on walls all over the world in businesses, homes, college dorm rooms, rustic camp cottages and coffee houses. I love vintage maps, the color aqua and believe in karma & goodness. Other places you can find me here: http://www.ohjoyphotography.com http://www.facebook.com/ohjoyphotography1 http://pinterest.com/ohjoy1 Olivia Joy St.Claire - Modern Nature / Travel Photography & Abstract Art joined Society6 on August 5, 2011
More
My soul & creativity sing in wild places due north. My greyhound lab, Maggie May, is my sometimes model. What inspires me? Exploring & wandering down less traveled roads, nature, flowers, 1920s art. My work has taken up residence on walls all over the world in businesses, homes, college dorm rooms, rustic camp cottages and coffee houses. I love vintage maps, the color aqua and believe in karma & goodness.
Other places you can find me here:
http://www.ohjoyphotography.com
http://www.facebook.com/ohjoyphotography1
http://pinterest.com/ohjoy1
Olivia Joy St.Claire - Modern Nature / Travel Photography & Abstract Art joined Society6 on August 5, 2011.
Cards by Olivia Joy St.Claire - Modern Nature / Travel Photography & Abstract Art
866 results
Filter