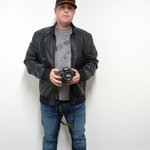 Josko
I am an entrepreneur, a designer, a artist and a photographer. A graduate of the California College of the Arts with a Barch. CCA was not only an amazing architectural education but it exposed me to such an amazing world of art, fashion and design that I want to get my hands dirty in all creative aspects of it. My physical artwork can be found under J.O.S.K.O which is a mix of sculpture, water color, ink, and acrylics. I look at art as a process in which as you create you allow your soul to be naked and vulnerable to be exposed to the world and in your self exploration and self expression you hopefully give the world an uplifting gift for at the vary least a moment when the world is currently full of such negative energy. Art is away to make it more positive. Working on my website coming soon Josko joined Society6 on October 14, 2014
More
I am an entrepreneur, a designer, a artist and a photographer. A graduate of the California College of the Arts with a Barch. CCA was not only an amazing architectural education but it exposed me to such an amazing world of art, fashion and design that I want to get my hands dirty in all creative aspects of it.
My physical artwork can be found under J.O.S.K.O which is a mix of sculpture, water color, ink, and acrylics.
I look at art as a process in which as you create you allow your soul to be naked and vulnerable to be exposed to the world and in your self exploration and self expression you hopefully give the world an uplifting gift for at the vary least a moment when the world is currently full of such negative energy. Art is away to make it more positive.
Working on my website coming soon
Josko joined Society6 on October 14, 2014.