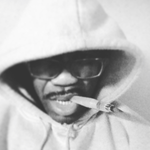 jp kalonji
Jean-Philippe Kalonji was born in Geneva in 1973. After having travelled to and lived in New York, London and Japan, he then moved back to Geneva,Carouge where he presently resides. Painter, illustrator, and comic artist, he started his career in 1992 and was eventually called upon to collaborate with several institutions of note. In 2009, JP Kalonji was signed by Dark Horse Publications in the United States for his publication "365 Samurais and a Few Bowls of Rice". Received particularly well by his fans, his novel was quickly sold out in Australia, New York and London. The same year, he participated for the first time in Comic-con, the most important convention for graphic novels in the world, where he was seated side by side with great masters of the scene such as Mike Mignola (creator of Hell Boy). In addition, he was commissioned by Formula One's McLaren team to complete artistic work on the team products. JP Kalonji has also worked closely with organizations and personalities such as UNESCO; the London Olympic Games committee, Yohji Yamamoto, been published in Vanity Fair, France as well as worked creatively with the Théodora Foundation. At present, it is also important to mention his commissioned work for 'Le Corriere Della Serra' in Milan 2015 as part of their first worldwide exhibition. Year resident 2016 artist of the Musée D'art et d'Histoires of Geneva Switzerland. jp kalonji joined Society6 on February 11, 2013
More
Jean-Philippe Kalonji was born in Geneva in 1973. After having travelled to and lived in New York, London and Japan, he then moved back to Geneva,Carouge where he presently resides. Painter, illustrator, and comic artist, he started his career in 1992 and was eventually called upon to collaborate with several institutions of note.
In 2009, JP Kalonji was signed by Dark Horse Publications in the United States for his publication "365 Samurais and a Few Bowls of Rice". Received particularly well by his fans, his novel was quickly sold out in Australia, New York and London. The same year, he participated for the first time in Comic-con, the most important convention for graphic novels in the world, where he was seated side by side with great masters of the scene such as Mike Mignola (creator of Hell Boy).
In addition, he was commissioned by Formula One's McLaren team to complete artistic work on the team products. JP Kalonji has also worked closely with organizations and personalities such as UNESCO; the London Olympic Games committee, Yohji Yamamoto, been published in Vanity Fair, France as well as worked creatively with the Théodora Foundation.
At present, it is also important to mention his commissioned work for 'Le Corriere Della Serra' in Milan 2015 as part of their first worldwide exhibition.
Year resident 2016 artist of the Musée D'art et d'Histoires of Geneva Switzerland.
jp kalonji joined Society6 on February 11, 2013.