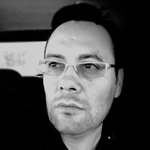 Juan Cervantes
When I was 5yrs old I had a thought that I wanted to draw the rest of my life. I didn't know I could make a living and I didn't know what exactly I would be drawing as a grown-up. One thing was for sure, I drew a lot and I loved it.
I love art and love making it.
Please feel free to look at my work and if you can help me spread the word I would really appreciate it. Ask me anything or send me ideas of things you would like to see and I'll try to take on your challenge.
Thank you,
Juan R. Cervantes
Read more