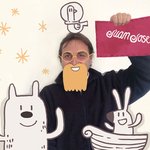 juan jose
Para mí, ilustrar, es crear y adentrarme en universos nuevos, volátiles y llenos de energía. Es un lugar donde me puedo expresar libremente para buscar, analizar o simplemente dejar volar la imaginación. ​Me gusta ilustrar y desarrollar ideas. Trabajo con Agencias de Diseño, Marketing, Empresas, Libros de Texto, Proyectos Personales y Encargos Particulares.
Mas sobre mi trabajo en juanjose.cl
For me, to illustrate, is to create and penetrate new, volatile and energetic universes. It is a place where I can express freely to search, analyze or simply let the imagination fly. I like to illustrate and develop ideas. I work with Design Agencies, Marketing, Companies, Textbooks, Personal Projects and Private Charges.
More about my job at juanjose.cl
Read more