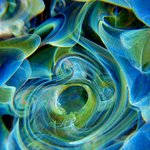 Jubilant Art
This vibrant collection of Jubilant Art prints represents a photographic exploration of Deenie and Daniel Wallace's flameworked glass designs. The expressive, abstract worlds of color revealed by the camera's lens are an inspired extension of their craft. To learn more about our studio, and the glassworks our prints are based on, please visit http://bejubilant.com. Jubilant Art joined Society6 on February 22, 2013
More
This vibrant collection of Jubilant Art prints represents a photographic exploration of Deenie and Daniel Wallace's flameworked glass designs. The expressive, abstract worlds of color revealed by the camera's lens are an inspired extension of their craft.
To learn more about our studio, and the glassworks our prints are based on, please visit http://bejubilant.com.
Jubilant Art joined Society6 on February 22, 2013.
Jubilant Art 's Store
17 results
Filter