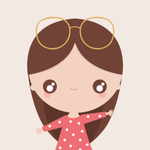 Juice for Breakfast
Juice for Breakfast is a characters factory created by Giulia Amoruso B., based in Rome (Italy). Giulia, known as Ju, is a four-eyes ever since she was a little girl. Thanks to her glasses she learned how to observe every little wonder the World could offer. Her glasses allowed her to learn reading, but above all allowed her to learn writing. At the age of seven Ju felt an ubridled passion for storytelling. She invented stories of more or less enchanted worlds and narrated funny unlucky and misunderstood characters' adventures during the night. Of course many of them wore glasses. She loved writing, but she was not too good at drawing. One day she decided to learn. In 2009 Ju grabbed a pencil for the first time, aiming to create her characters for real. That's how the Factory came to life and despite ups and downs, spilled ink jars, long hours on the computer and decreasing diopters, every, or almost every, protagonist of Ju's stories became real. In 2011 "Juice" turned into Juice for Breakfast, a place where Ju's characters could live in harmony, and where they could stumble without being teased. From that moment on, every morning, in front of a freshly squeezed orange juice, the four-eyes churns out new characters for breakfast. Welcome to the Factory. ♥ www.juiceforbreakfast.com Juice for Breakfast joined Society6 on July 26, 2013
More
Juice for Breakfast is a characters factory created by Giulia Amoruso B., based in Rome (Italy).
Giulia, known as Ju, is a four-eyes ever since she was a little girl. Thanks to her glasses she learned how to observe every little wonder the World could offer.
Her glasses allowed her to learn reading, but above all allowed her to learn writing. At the age of seven Ju felt an ubridled passion for storytelling. She invented stories of more or less enchanted worlds and narrated funny unlucky and misunderstood characters' adventures during the night. Of course many of them wore glasses.
She loved writing, but she was not too good at drawing. One day she decided to learn.
In 2009 Ju grabbed a pencil for the first time, aiming to create her characters for real. That's how the Factory came to life and despite ups and downs, spilled ink jars, long hours on the computer and decreasing diopters, every, or almost every, protagonist of Ju's stories became real.
In 2011 "Juice" turned into Juice for Breakfast, a place where Ju's characters could live in harmony, and where they could stumble without being teased.
From that moment on, every morning, in front of a freshly squeezed orange juice, the four-eyes churns out new characters for breakfast.
Welcome to the Factory.
♥
www.juiceforbreakfast.com
Juice for Breakfast joined Society6 on July 26, 2013.
Framed Prints by Juice for Breakfast
29 results
Filter