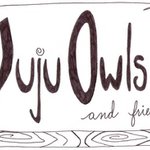 JujuOwls and Friends
"JujuOwls© And Friends" are a series of adorable animals that are friends with JujuOwls and theirs in goal is to help spread Good Juju to all. JujuOwls came about after many years of associating owls with the fleeting memory of my grandmother who passed away when I was very young. I don't remember her much but if I ever thought or saw an owl I remembered my grandmother and would feel a happy warmth in my heart like she was watching me in the same way owls watch over the forests. One day, a few years ago, I finally mentioned this odd correlation to my mother and she explained that when I was very little I was fascinated by my grandmothers collection of clay miniature owl figurines that her best friend had made. This detail I had forgotten, perhaps because I was very young. Since then I've been working on my masters degree in education and just completed a certification program while also teaching full time. With the program complete I finally have the time for my true passion of art and spreading good juju. When I sat down to draw after not doing so for 4 years all that I wanted to do was honor my grandmother's memory with a simple owl painting and I haven't been able to stop myself from wanting to continue to spread good juju to as many as I can using images that may also remind them of a very distant and fleeting childhood memory. That is how the friends in JujuOwls and Friends came about: giraffes, elephants...JujuOwls are very friendly and they continue to find friends everywhere :) JujuOwls and Friends joined Society6 on August 8, 2014
More
"JujuOwls© And Friends" are a series of adorable animals that are friends with JujuOwls and theirs in goal is to help spread Good Juju to all.
JujuOwls came about after many years of associating owls with the fleeting memory of my grandmother who passed away when I was very young. I don't remember her much but if I ever thought or saw an owl I remembered my grandmother and would feel a happy warmth in my heart like she was watching me in the same way owls watch over the forests. One day, a few years ago, I finally mentioned this odd correlation to my mother and she explained that when I was very little I was fascinated by my grandmothers collection of clay miniature owl figurines that her best friend had made. This detail I had forgotten, perhaps because I was very young. Since then I've been working on my masters degree in education and just completed a certification program while also teaching full time. With the program complete I finally have the time for my true passion of art and spreading good juju. When I sat down to draw after not doing so for 4 years all that I wanted to do was honor my grandmother's memory with a simple owl painting and I haven't been able to stop myself from wanting to continue to spread good juju to as many as I can using images that may also remind them of a very distant and fleeting childhood memory. That is how the friends in JujuOwls and Friends came about: giraffes, elephants...JujuOwls are very friendly and they continue to find friends everywhere :)
JujuOwls and Friends joined Society6 on August 8, 2014.