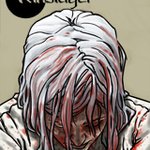 Kinslayer - by Marc Thompson
I am the author and artist for the webcomic Kinslayer. I have always been fascinated by art, history, science, and a good story. Making Kinslayer finally brings all the things I love into one story which I hope shines through. I always have stories and other weird things pop into my head which I also hope to share over time. I'm open to requests for making prints using elements from Kinslayer. http://julea-kinslayer.com Kinslayer - by Marc Thompson joined Society6 on August 16, 2013
More
I am the author and artist for the webcomic Kinslayer. I have always been fascinated by art, history, science, and a good story. Making Kinslayer finally brings all the things I love into one story which I hope shines through. I always have stories and other weird things pop into my head which I also hope to share over time. I'm open to requests for making prints using elements from Kinslayer.
http://julea-kinslayer.com
Kinslayer - by Marc Thompson joined Society6 on August 16, 2013.
Kinslayer - by Marc Thompson's Store
53 results
Filter