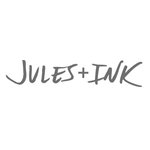 julesandink
Hey, I'm Jules! | Chicago | Painter, Surface Pattern Designer and Art Director | I'm using Society6 for just art prints of my original paintings, but if you're interested in any of my pieces being on a different society6 item or purchasing an original painting, e-mail me at juliapdesign@gmail.com. Website: www.julesandink.com Instagram: @julesandink Pinterest: @julesandink Twitter: @jules_ink All artwork is Copyright julesandink 2015. If you would like to showcase my work on your website or blog, please contact me first at juliapdesign@gmail.com. Thanks! julesandink joined Society6 on October 3, 2015
More
Hey, I'm Jules! | Chicago | Painter, Surface Pattern Designer and Art Director | I'm using Society6 for just art prints of my original paintings, but if you're interested in any of my pieces being on a different society6 item or purchasing an original painting, e-mail me at juliapdesign@gmail.com.
Website: www.julesandink.com Instagram: @julesandink Pinterest: @julesandink Twitter: @jules_ink
All artwork is Copyright julesandink 2015. If you would like to showcase my work on your website or blog, please contact me first at juliapdesign@gmail.com. Thanks!
julesandink joined Society6 on October 3, 2015.