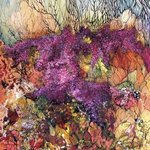 Julia Filipchuk
In the works of Julia Filipchuk there is a striving for a symbiosis of realistic and abstract art. Each picture from the Germany-based artist is a carefully told story, between graphics and painting, with a focus on the visual and sensual impact of colour upon the viewer's perception and experience. Website: www.modern-tapestry.de Julia Filipchuk joined Society6 on December 3, 2016
More
In the works of Julia Filipchuk there is a striving for a symbiosis of realistic and abstract art. Each picture from the Germany-based artist is a carefully told story, between graphics and painting, with a focus on the visual and sensual impact of colour upon the viewer's perception and experience.
Website: www.modern-tapestry.de
Julia Filipchuk joined Society6 on December 3, 2016.