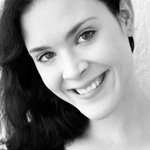 Love2Laugh
Hi, my name's Julia Louisa. Art is my everything, not just a career or a hobby, it is a means to create joy. I am a graduate of Ringling College of Art and Design's Graphic and Interactive Communications BFA program with honors. I am both a Graphic designer and a fine artist, I love to paint and sketch as well as collage and draw within and without my computer. More work: https://www.behance.net/JuliaDeJoseph More info: https://www.linkedin.com/pub/julia-louisa-dejoseph/67/77a/4b5 Love2Laugh joined Society6 on January 13, 2014
More
Hi, my name's Julia Louisa. Art is my everything, not just a career or a hobby, it is a means to create joy. I am a graduate of Ringling College of Art and Design's Graphic and Interactive Communications BFA program with honors. I am both a Graphic designer and a fine artist, I love to paint and sketch as well as collage and draw within and without my computer.
More work: https://www.behance.net/JuliaDeJoseph More info: https://www.linkedin.com/pub/julia-louisa-dejoseph/67/77a/4b5
Love2Laugh joined Society6 on January 13, 2014.