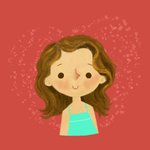 Juliana Motzko
I'm a brazilian Illustrator, Art Teacher and Crafter.
Graduated on Arts and Pedagogy, I try to mix all my experiences in Arts full of good feelings, funny moments and cute results. Basically I love to create cute stuff.
You can see more about my work on web:
Fanpage: http://www.facebook.com/julianamotzkoillustration Blog: http://www.julianamotzko.blogspot.com Official site: http://www.julianamotzko.com.br (Under construction!!) You tube: http://www.youtube.com/julianamotzko
I hope you enjoy all of them! If you want, send me a message.. or add me on social media. It will be a pleasure talk with you, guys!
My contact: julianamsa@gmail.com
Read more
Juliana Motzko's Store
Filter