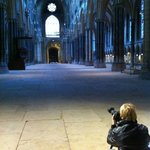 Julian Clune
Firstly I would like to say thank you for looking at my profile and for all the kind words and support everyone has shown in my work! I am a recent graduate of The University of Lincoln 2011, studying Photography and Moving Image. I am now a freelance photographer based in Lincoln, starting my photography business, C&G Photography with a good friend of mine. Please feel free to contact me about any of my work through Society 6 or my website: www.candgphotography.org. Julian Clune joined Society6 on February 10, 2012
More
Firstly I would like to say thank you for looking at my profile and for all the kind words and support everyone has shown in my work!
I am a recent graduate of The University of Lincoln 2011, studying Photography and Moving Image. I am now a freelance photographer based in Lincoln, starting my photography business, C&G Photography with a good friend of mine. Please feel free to contact me about any of my work through Society 6 or my website: www.candgphotography.org.
Julian Clune joined Society6 on February 10, 2012.