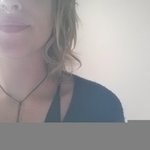 Julia Redding
Toronto Based visual artist. Julia Redding is an interdisciplinary artist who completed her BFA at OCAD University. Working with sculpture, installation, photography and painting, her work is influenced by experimenting with a variety of mediums. By adding digital components to her work she explores the ever-growing technological world in terms of social media and the digitized image. For further works please visit, www.juliaredding.com Julia Redding joined Society6 on June 12, 2015
More
Toronto Based visual artist.
Julia Redding is an interdisciplinary artist who completed her BFA at OCAD University. Working with sculpture, installation, photography and painting, her work is influenced by experimenting with a variety of mediums. By adding digital components to her work she explores the ever-growing technological world in terms of social media and the digitized image.
For further works please visit,
www.juliaredding.com
Julia Redding joined Society6 on June 12, 2015.