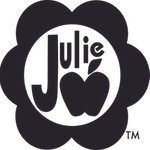 JulieApple
JulieApple™ is a collection made with Repreve® fabrics, made with 100% post consumer waste, & printed with AirDye®, a waterless printing technology. The bottom line: JulieApple is a sustainable collection that uses less energy, less water, & creates less trash, with a focus on US materials & fair labor. Every JulieApple print is designed by Julianne Applegate. Applegate has designed collaborative projects with Colette Paris, Gwen Stefani, Diane Von Furstenberg, Jonathan Adler, tokidoki, Fafi, Amy Davis, assume vivid astro focus and many other artists. JulieApple is a labor of love. Every JulieApple is painstakingly crafted with fair labor & sustainable, local materials with the commitment to be good to every hand that touches it. We are adding new categories of products to the collection every day. Lookout for updates about clothing, scarves, home decor and stationary products. Our Website: http://www.julieapplestore.com Pinterest: http://pinterest.com/julieapple/ Facebook: https://www.facebook.com/JulieAppleInc Twitter: https://twitter.com/#!/JulieApple JulieApple joined Society6 on June 14, 2012
More
JulieApple™ is a collection made with Repreve® fabrics, made with 100% post consumer waste, & printed with AirDye®, a waterless printing technology. The bottom line: JulieApple is a sustainable collection that uses less energy, less water, & creates less trash, with a focus on US materials & fair labor.
Every JulieApple print is designed by Julianne Applegate. Applegate has designed collaborative projects with Colette Paris, Gwen Stefani, Diane Von Furstenberg, Jonathan Adler, tokidoki, Fafi, Amy Davis, assume vivid astro focus and many other artists.
JulieApple is a labor of love. Every JulieApple is painstakingly crafted with fair labor & sustainable, local materials with the commitment to be good to every hand that touches it.
We are adding new categories of products to the collection every day. Lookout for updates about clothing, scarves, home decor and stationary products.
Our Website: http://www.julieapplestore.com Pinterest: http://pinterest.com/julieapple/ Facebook: https://www.facebook.com/JulieAppleInc Twitter: https://twitter.com/#!/JulieApple
JulieApple joined Society6 on June 14, 2012.