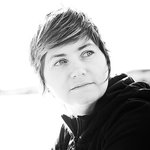 Julie Epp
I live a life of creativity. I am a filmmaker, photographer, graphic designer, writer, art therapist, artist, crafter, dreamer and traveller. I am particularly interested in documenting and sharing the stories of people's lives through photos and video. I have also worked closely with musicians - doing photography, videography, graphic layout/design, tour booking and management. I like abandoned houses, scrabble, camping, wandering in the forest, writing notes on stones, art nights, snail mail, coffee, looking at the stars, and doing good in the world. I love travelling and have recently been spending more of my time with children at an orphanage in Rwanda. Julie Epp joined Society6 on April 16, 2015
More
I live a life of creativity. I am a filmmaker, photographer, graphic designer, writer, art therapist, artist, crafter, dreamer and traveller. I am particularly interested in documenting and sharing the stories of people's lives through photos and video.
I have also worked closely with musicians - doing photography, videography, graphic layout/design, tour booking and management.
I like abandoned houses, scrabble, camping, wandering in the forest, writing notes on stones, art nights, snail mail, coffee, looking at the stars, and doing good in the world. I love travelling and have recently been spending more of my time with children at an orphanage in Rwanda.
Julie Epp joined Society6 on April 16, 2015.
Julie Epp's Store
18 results
Filter