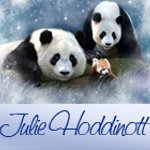 Julie Hoddinott
My name is Julie, but most people call me Jul or Jules. I am a 47 year old Grandmother and full time carer of the most precious little girl one could ever set eyes on. She is my life, and my artistic journey comes a close second. I live in the pretty, but wet country of Wales, UK. I do not permit the pinning of my copyrighted artwork to Pinterest. I have a passionate love for animals, children and for environmental/conservation work and activity. Much of my spare time is given to both conservational projects and helping my local community. I like to write [I am currently writing a fantasy romance novel], and create the odd image now and then :) Most of the work you will find in my galleries will be animal themed, but I also create fantasy work that involves humans - usually child portraiture or female models. They too, will mostly contain an animal in there somewhere :) Julie Hoddinott joined Society6 on March 5, 2012
More
My name is Julie, but most people call me Jul or Jules. I am a 47 year old Grandmother and full time carer of the most precious little girl one could ever set eyes on. She is my life, and my artistic journey comes a close second. I live in the pretty, but wet country of Wales, UK. I do not permit the pinning of my copyrighted artwork to Pinterest.
I have a passionate love for animals, children and for environmental/conservation work and activity. Much of my spare time is given to both conservational projects and helping my local community. I like to write [I am currently writing a fantasy romance novel], and create the odd image now and then :) Most of the work you will find in my galleries will be animal themed, but I also create fantasy work that involves humans - usually child portraiture or female models. They too, will mostly contain an animal in there somewhere :)
Julie Hoddinott joined Society6 on March 5, 2012.