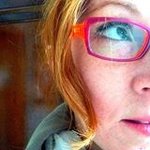 Julie Malone
I am a painter living and working in St. Louis, Mo, on the South Side :) I have a studio, gallery and and a frame shop all in one building. you should visit when you are in town. It is called SOHA Studio and Gallery. I have been painting forever and making a name here in my home town. My paintings are color-filled, imagined landscapes in both oil and pastel. I paint on wood and build all the panels myself and frame them too. Julie Malone joined Society6 on August 11, 2014
More
I am a painter living and working in St. Louis, Mo, on the South Side :) I have a studio, gallery and and a frame shop all in one building. you should visit when you are in town. It is called SOHA Studio and Gallery.
I have been painting forever and making a name here in my home town.
My paintings are color-filled, imagined landscapes in both oil and pastel. I paint on wood and build all the panels myself and frame them too.
Julie Malone joined Society6 on August 11, 2014.
Julie Malone's Store
27 results
Filter