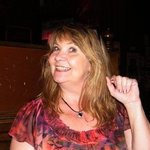 JulieRikerDant
Julie specializes in creating ARTography, a fairly new genre of photography. By applying various effects and lighting techniques to her images, she can transform ordinary scenes and objects into something extra-ordinary that can be recognized by others as beautiful art. Julie is a nationally known, award-wining photographer and artist who is based in Southern Indiana. Her work is currently hanging in several Art Galleries in Indiana, Illinois and in St. Louis, MO. JulieRikerDant joined Society6 on April 7, 2013
More
 Julie specializes in creating ARTography,  a fairly new genre of photography.  By applying various effects and lighting techniques to her images, she can transform ordinary scenes and objects into something extra-ordinary that can be recognized by others as beautiful art. 
Julie is a nationally known, award-wining photographer and artist who is based in Southern Indiana.  
Her work is currently hanging in several Art Galleries in Indiana, Illinois and in St. Louis, MO.

JulieRikerDant joined Society6 on April 7, 2013.