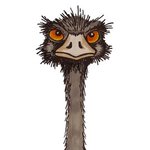 Julie Viens
About Julie Viens
Julie Viens was born in the city of Omaha, Nebraska. From and early age she was interested in pursuing visual arts. She attended UC Riverside, and Art Center at night as Illustration Major, while taking additional classes at Santa Monica City College.
In her professional career, Julie has worked with such clients as: EarthLink, Mattel, Toyota, Honda, Caesar's Palace, Mc Donald's, Yamaha, Suzuki, Cal Fed, Capitol Records, Rhino Records, Pedigree-Kal-Kan, Guitar Center, Fender Music Foundation, SockItToMe and many others.
Find more of her work here:
http://julieviens.net/
Instagram:
https://www.instagram.com/sorentaine/
Julie Viens joined Society6 on September 14, 2011.