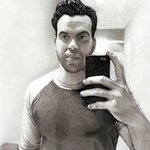 Julio Lucas
My name is Julio Lucas, I'm a self-taught illustrator residing in U.S.A. I enjoy using graphite pencils to produce my artwork. To me a graphite pencil is the most basic underestimated tool in art. For many artists a pencil is just used as a tool to sketch out a drawing or outline a painting. I see a graphite pencil more as an artist's magic wand. If the artist is willing to put in the time, learn the craft and remain patient a graphite pencil can offer an artist endless opportunities to achieve anything from a simple doodle to a hyper-realistic drawing. I still have a lot to learn when it comes to drawing with my pencil set, but with each drawing I feel like I'm getting a little closer to my goal of being a Graphite Pencil Artist. Thank you for taking interest in my art! To learn more about me please visit: www.juliolucas.com Julio Lucas joined Society6 on August 13, 2014
More
My name is Julio Lucas, I'm a self-taught illustrator residing in U.S.A. I enjoy using graphite pencils to produce my artwork. To me a graphite pencil is the most basic underestimated tool in art. For many artists a pencil is just used as a tool to sketch out a drawing or outline a painting. I see a graphite pencil more as an artist's magic wand. If the artist is willing to put in the time, learn the craft and remain patient a graphite pencil can offer an artist endless opportunities to achieve anything from a simple doodle to a hyper-realistic drawing. I still have a lot to learn when it comes to drawing with my pencil set, but with each drawing I feel like I'm getting a little closer to my goal of being a Graphite Pencil Artist. Thank you for taking interest in my art!
To learn more about me please visit: www.juliolucas.com
Julio Lucas joined Society6 on August 13, 2014.