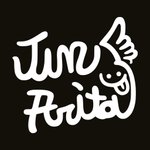 Jun Arita
Jun is from Osaka, Japan but currently living in New Zealand.
Jun is an Artist and Graphic Designer, whose colorful work draws its influences from Pop Art, Traditional Japanese Art, Kanji (Chinese characters used in Japanese writing) and graffiti.
Jun hopes his art will inspire others to fulfil their hopes and aspirations. Sharing his work with others gives Jun a sense of purpose and the drive to create more work.
Jun has completed a number of art murals in NZ and Japan. Recently he has participated in live painting events in collaboration with Red Bull and Van Arts & Co. He exhibits regularly in Japan, the Netherlands and New Zealand. Jun has collaborated with many other interesting artists including Tiki Taane on art and design projects.
Jun's work holds a universal appeal and he is ambitious for his work to be seen in all the corners of the world.
His cherished motto is "Never give up!".
Jun's Website : www.aritajun.com
Read more
Wall Clocks by Jun Arita
17 results
Filter