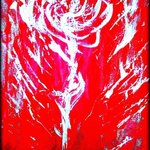 Jussi Lovewell
"Jussi Lovewell (pronounced Yousee Luh Vwell) is a Swedish-Bostonian artist.
He is the frontman of a certain rock n' roll band that you'd love. He resides in a 'castle-turned-rock bar' home with three gorgeous gals. One blonde, one brunette, and one with a purple mohawk. His daily life is forever rad, as he travels constantly, moves quickly, and never stops creating brilliant pieces of art"
Buy his artwork and live.
Interpret that last sentence however you want... But just remember, you'll be glad you ordered his artwork.
Read more
Jussi Lovewell's Store
Filter