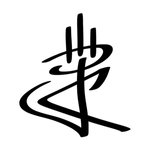 Justin Copeland
Justin is a Baltimore based digital painter who specializes in portraits of black and african american women. His work expresses black beauty and promotes self love and inner growth. In his work he strives to capture the essence and beauty of people of color. Through his excessive use of vibrant colors and textures, he wants to place the viewer in the mind space that even though life can be difficult at times for people of color, they posses a soulful beauty beyond measure. Justin Copeland joined Society6 on April 23, 2016
More
Justin is a Baltimore based digital painter who specializes in portraits of black and african american women. His work expresses black beauty and promotes self love and inner growth.
In his work he strives to capture the essence and beauty of people of color. Through his excessive use of vibrant colors and textures, he wants to place the viewer in the mind space that even though life can be difficult at times for people of color, they posses a soulful beauty beyond measure.
Justin Copeland joined Society6 on April 23, 2016.