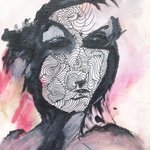 Justin Snyder
The capacity to articulate so much with lines and patterns fascinates me. For the past few years I have been experimenting with capturing my emotions in the fluidity of lines and layers of pattern in which i represent them in. Every piece is being immersed in a different environment providing a platform for the viewer to challenge ones own narrative capabilities. Each interpretation can change from one viewer to the next, letting each viewer come to their own interpretation of the expressions presented. The paintings are a continues process of growth. The line work is a constant push and pull of both experience and new mistakes. Each new piece being a rather big accomplishment for myself in one way or another. -------------------------------------------------------- Justin Currently lives in Long Beach, CA where he is works full time as an Artist and Designer. Justin can be reached at justinsnyder@pushgallery.com Justin Snyder joined Society6 on May 17, 2012
More
The capacity to articulate so much with lines and patterns fascinates me. For the past few years I have been experimenting with capturing my emotions in the fluidity of lines and layers of pattern in which i represent them in.
Every piece is being immersed in a different environment providing a platform for the viewer to challenge ones own narrative capabilities. Each interpretation can change from one viewer to the next, letting each viewer come to their own interpretation of the expressions presented.
The paintings are a continues process of growth. The line work is a constant push and pull of both experience and new mistakes. Each new piece being a rather big accomplishment for myself in one way or another.
---
Justin Currently lives in Long Beach, CA where he is works full time as an Artist and Designer. Justin can be reached at justinsnyder@pushgallery.com
Justin Snyder joined Society6 on May 17, 2012.
Framed Prints by Justin Snyder
10 results
Filter