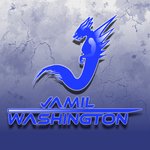 Jamil Washington
I'm an illustrator and digital artist with a strong passion for digital art. I've been drawing for as far back as I can remember. I started teaching myself to draw digitally back when I was in high school using Photoshop CS2. After graduating from high school in 2005 I eventually went on to study at the Savannah College of Art and Design where I took a major in animation. Since my graduation, I have been working part-time at various odd jobs as I try and make my way as a freelance illustrator and digital artist. For me as an artist, it is my goal to create designs that captivate one's imagination, that impose on the viewer's emotions. With my art, I try to draw inspiration from a variety of sources and not just a few, while finding ways to bring everything together in a way that is harmonious. I love mixing organic or inorganic forms together in ways that ask my audience to look at things from a different perspective. If even one of my designs has gotten you to stop and think, or simply left you with a desire to see more from me then I've accomplished my goal. Jamil Washington joined Society6 on April 30, 2016
More
I'm an illustrator and digital artist with a strong passion for digital art. I've been drawing for as far back as I can remember. I started teaching myself to draw digitally back when I was in high school using Photoshop CS2. After graduating from high school in 2005 I eventually went on to study at the Savannah College of Art and Design where I took a major in animation. Since my graduation, I have been working part-time at various odd jobs as I try and make my way as a freelance illustrator and digital artist. For me as an artist, it is my goal to create designs that captivate one's imagination, that impose on the viewer's emotions.
With my art, I try to draw inspiration from a variety of sources and not just a few, while finding ways to bring everything together in a way that is harmonious. I love mixing organic or inorganic forms together in ways that ask my audience to look at things from a different perspective. If even one of my designs has gotten you to stop and think, or simply left you with a desire to see more from me then I've accomplished my goal.
Jamil Washington joined Society6 on April 30, 2016.