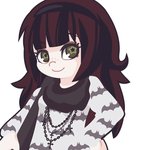 JVK Illustrations
Eine junge, aufstrebende digitale Illustratorin und Kommunikationsdesign - Studentin aus Hamburg, Deutschland. Zeichnet, seitdem sie einen Stift halten kann und sucht nun stets nach Verbesserung. A young, yet aspiring Digital Artist and Communications Design Student from Hamburg, Germany. Draws since she can hold a pencil and now constantly seeks for improvement. PORTFOLIO: http://www.jvk-illustrations.de/ FACEBOOK: https://www.facebook.com/JVKIllustrations TWITTER (german only): https://twitter.com/JVKIllustration JVK Illustrations joined Society6 on October 5, 2014
More
Eine junge, aufstrebende digitale Illustratorin und Kommunikationsdesign - Studentin aus Hamburg, Deutschland. Zeichnet, seitdem sie einen Stift halten kann und sucht nun stets nach Verbesserung.
A young, yet aspiring Digital Artist and Communications Design Student from Hamburg, Germany. Draws since she can hold a pencil and now constantly seeks for improvement.
PORTFOLIO: http://www.jvk-illustrations.de/ FACEBOOK: https://www.facebook.com/JVKIllustrations TWITTER (german only): https://twitter.com/JVKIllustration
JVK Illustrations joined Society6 on October 5, 2014.
JVK Illustrations's Store
24 results
Filter