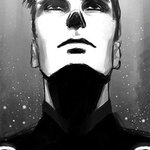 Kabukins
I am a 20-year-old art student in Atlanta, Georgia. My spare time is occupied by making art, playing video games, and worldbuilding. Since I was young I've had a vast imagination filled with many worlds, and my ultimate goal is to find a place in the concept art industry where I can illustrate my many ideas and implement them where they can be enjoyed, particularly in films and games. My vision is not complete until I can share with the world what I see in my mind. Unfortunately I am not financially blessed and need a lot of income in order support myself. Please consider buying some of my stuff! C: Kabukins joined Society6 on January 19, 2013
More
I am a 20-year-old art student in Atlanta, Georgia.
My spare time is occupied by making art, playing video games, and worldbuilding. Since I was young I've had a vast imagination filled with many worlds, and my ultimate goal is to find a place in the concept art industry where I can illustrate my many ideas and implement them where they can be enjoyed, particularly in films and games. My vision is not complete until I can share with the world what I see in my mind. Unfortunately I am not financially blessed and need a lot of income in order support myself. Please consider buying some of my stuff! C:
Kabukins joined Society6 on January 19, 2013.
Kabukins's Store
8 result
Filter