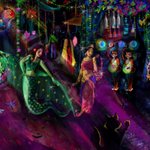 Kaleidodrama Tall Tales X Magical Night Market
The Night Market in Shveta Thakrar's novel STAR DAUGHTER, brought to life!
---
For the love of lotuses, stardust, bhoot-flavoured ice cream and sparkling moonbeams on ice.
This magical Night Market was conjured in the land of stardust and all things enchanted by the immensely talented Shveta Thakrar as part of her much-awaited debut young adult fantasy novel STAR DAUGHTER, the first of the two standalone books she sold to HarperTeen, an imprint of HarperCollins, last year.
In a collaboration of creatives, mixed-media artist Asma Kazi visually translated Shveta Thakrar's words into jewel-toned tents chock-full of charmed bits and bobs, while glorious mythical beings wander the spiraling paths as they shop for magical potions, shawls of sunlight, and silken weaves, all under a starlit sky. A piece of this magic is now available as art prints for your own walls and as other fun goodies.
We can't wait to get our hands on STAR DAUGHTER, which releases on 11 August 2020. Until then, soak in the glow of the magical Night Market! ❤
---
Shveta Thakrar is a part-time nagini and full-time believer in magic. Her work has appeared in a number of magazines and anthologies including Enchanted Living, Uncanny Magazine, A Thousand Beginnings and Endings, and Toil & Trouble. Her debut young adult fantasy novel, Star Daughter, is out from HarperTeen in August 2020. When not spinning stories about spider silk and shadows, magic and marauders, and courageous girls illuminated by dancing rainbow flames, Shveta crafts, devours books, daydreams, travels, bakes, and occasionally even plays her harp.
www.shvetathakrar.com
---
Asma Kazi is a mixed media artist currently based in Pune, India. She has worked as an artist professionally, since 2012, and has been commissioned to work on various fine art and commercial art projects in this time. Her artwork currently resides with collectors around the world. Some of her commercial art projects include artwork created for Joseph Gordon-Levitt, Hachette Books, Zee TV and Hoshruba Repertory.
Asma's work is evocative, carnivalesque, influenced by tales from her childhood, and inspirations drawn from following the breadcrumb trail of the enchanted everyday. It is a celebration of the ever evolving, and ever enchanted, alongside beautiful dilapidation. It is a celebration of the candy hued, whimsical and the resilient.
www.kaleidodrama.com
Read more