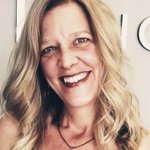 Kami Kinnison
About the artist...
I was born in Wheeling, West Virginia and raised in Bridgeport, Ohio. I majored in fine art, and received my Bachelor's in Fine Arts from the Columbus College of Art & Design in 1993. I lived and painted in Taos, New Mexico from 1996-97.
I lived and worked in the beautiful city of Wilmington, North Carolina for five years. I have had the honor and privilege of working with Hiroshi Sueyoshi, master potter, at the Cameron Art Museum.
I find my inspiration through life experiences, people, music, nature, and discovering new places and things. I focus on the exploration of color, shape, texture and movement in my paintings and pottery. While living close to the ocean, my pottery has evolved into more organic sculptural pieces, and my paintings are brighter and have a beautiful flowing movement to them.
I have been creating, exhibiting and selling my art nationally and internationally for over twenty years. My work has been collected throughout the US and Europe.
I am inspired by the works of Pablo Picasso, Jackson Pollock, Georgia O'Keeffe, Wassily Kandinsky and Joan Miro.
Read more
Kami Kinnison's Store
Filter