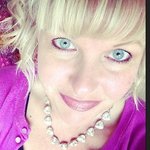 kammiek
Thanks for visiting it's a pleasure to meet you. My art story is funny. I haven't taken an art class since I was in high school. I've been a writer, speaker, marketer, trainer, teacher and coach - but ART? Nuh. Uh. Nope. Not me. ART was always for "other people". For most of 2012, I couldn't shake the desire to paint. I didn't know the difference between oil, watercolor and acrylic. I'd asked my "artist" friends to take me to the art store and show me around, but I never actually did it. Then in October, a small group of us girls had a woman over to do some "readings". The first thing this woman said to me as she locked her eyes with mine was, "You need to paint." It was an interesting reading, but perhaps the kick in the butt I needed to just pick up the paint brush and give it a whirl. So I did. The work you see has been created since that reading in Oct. of 2012. No art classes. No art degree. Just a desire and some divine intervention. I'm taking classes here and there to learn new techniques and to discover what untapped inspiration might be there lurking under the fear. Creating art has been both the scariest thing and the most liberating thing I've done this year. I can't wait to see what continues to unfold! My desire is not to simply sell the originals, but to create prints, bags, cards, and other products where these designs might inspire others or simply put a smile on someone's face. Thanks for joining me on my ART adventure...who knows where we'll end up! kammiek joined Society6 on February 22, 2013
More
Thanks for visiting it's a pleasure to meet you. My art story is funny. I haven't taken an art class since I was in high school. I've been a writer, speaker, marketer, trainer, teacher and coach - but ART? Nuh. Uh. Nope. Not me. ART was always for "other people".
For most of 2012, I couldn't shake the desire to paint. I didn't know the difference between oil, watercolor and acrylic. I'd asked my "artist" friends to take me to the art store and show me around, but I never actually did it. Then in October, a small group of us girls had a woman over to do some "readings". The first thing this woman said to me as she locked her eyes with mine was, "You need to paint." It was an interesting reading, but perhaps the kick in the butt I needed to just pick up the paint brush and give it a whirl. So I did.
The work you see has been created since that reading in Oct. of 2012. No art classes. No art degree. Just a desire and some divine intervention. I'm taking classes here and there to learn new techniques and to discover what untapped inspiration might be there lurking under the fear. Creating art has been both the scariest thing and the most liberating thing I've done this year. I can't wait to see what continues to unfold!
My desire is not to simply sell the originals, but to create prints, bags, cards, and other products where these designs might inspire others or simply put a smile on someone's face. Thanks for joining me on my ART adventure...who knows where we'll end up!
kammiek joined Society6 on February 22, 2013.
kammiek's Store
3 result
Filter