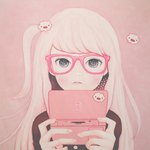 kaoru hasegawa
Kaoru Hasegawa I am an artist of Acrylic&Oil-style painting. I am Create of "MATTARI" works of canvas with oil paint and acrylic. Create the my works with a the ability to get a little "MATTARI" by placing the works in the room . Osaka Japan http://kaoruhasegawaartworks.tumblr.com kaoru hasegawa joined Society6 on April 21, 2014
More
Kaoru Hasegawa I am an artist of Acrylic&Oil-style painting. I am Create of "MATTARI" works of canvas with oil paint and acrylic. Create the my works with a the ability to get a little "MATTARI" by placing the works in the room .
Osaka Japan
http://kaoruhasegawaartworks.tumblr.com
kaoru hasegawa joined Society6 on April 21, 2014.