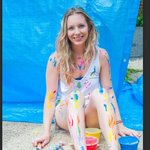 Kara Pixie Art
My work reflects the journey of a pre-med gone biological anthropology major gone corporate america while fighting a chronic illness. All while seeking refuge in art. I've decided to pull back the curtains and invite you to step inside the darkness with me. To bear witness to the haunted discoveries of living with a chronic illness. And to meet me in the celebratory moments scattered throughout. You'll witness moments of light, of the pure joy of a good day that can't be contained, but must find it's way to the canvas. To it's new home. To you. Art shouldn't be selfish. I believe it should be shared and celebrated, as are the lows and highs of life. I invite you to explore my gallery. If you're looking for something in particular, contact me with a personalized request and I'll bring your vision to life. Kara Pixie Art joined Society6 on September 10, 2016
More
My work reflects the journey of a pre-med gone biological anthropology major gone corporate america while fighting a chronic illness. All while seeking refuge in art.
I've decided to pull back the curtains and invite you to step inside the darkness with me. To bear witness to the haunted discoveries of living with a chronic illness. And to meet me in the celebratory moments scattered throughout. You'll witness moments of light, of the pure joy of a good day that can't be contained, but must find it's way to the canvas. To it's new home. To you.
Art shouldn't be selfish. I believe it should be shared and celebrated, as are the lows and highs of life.
I invite you to explore my gallery. If you're looking for something in particular, contact me with a personalized request and I'll bring your vision to life.
Kara Pixie Art joined Society6 on September 10, 2016.