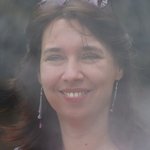 Karen Nadine
In love with creating digital art, I like to create fantasy and emotive scenery that allows the viewer to explore own feelings and emotions. All my digital art is created with purchased or open source content. All photographs are taken by me, digital manips created with photos are also taken by me, of with me as model. Discover more about me and my art at my website www.karennadine.com Karen Nadine joined Society6 on September 27, 2017
More
In love with creating digital art, I like to create fantasy and emotive scenery that allows the viewer to explore own feelings and emotions. All my digital art is created with purchased or open source content. All photographs are taken by me, digital manips created with photos are also taken by me, of with me as model.
Discover more about me and my art at my website www.karennadine.com
Karen Nadine joined Society6 on September 27, 2017.