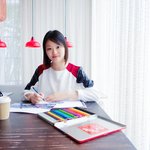 Karen Aruba
Draw life to happiness. Paint life in color.
Aruba is well known as 'One Happy Island' in Caribbean Sea, where Karen's lovely wedding taken place along with her childhood memories. The travel journey has inspired her to create artwork with her brand Karen Aruba - to bring people happiness in lives.
'Travel with Pencil' & 'Travel with Color' are the main themes of work, combining photography, painting and sketch features. The 3 core values in her artwork are inspiration, creativity and happiness.
Karen is a self-taught illustrator in Hong Kong. Thank you for your interest in her work.
More artwork @ Instagram: karen_aruba_art Twitter: karen_aruba Pinterest: karen aruba
Read more