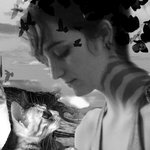 karenj
Artist | Designer | Creative Follow me on Instagram: @karenjhermans
As an artist, my intention is to create artwork that capture or express something, perhaps beautiful, perhaps wild and timeless or pieces that are just playful and fun. As a designer I understand the value of aesthetics, how to create compelling design work and how to interpret a brief according to the clients needs.
The aim is, ideally, to create artwork that works, that enhances a space or that provokes thought, memory and/or emotion.
I'm passionate about exploring, learning, playing and being creative. Inspired by nature, the elements, imagination, the Great Masters, people/cultures, stories, movement and emotion.
A Lover of The Arts, Nature, Music, Travel, Fit Body-Mind and the Erot- Creative Energy.
Let the beauty of what you love be what you do ~ Rumi
Read more